Jump to:
LWI's Professional Status Committee was formed in 2015 to gather information about status issues and challenges facing its members at their respective institutions, act as a resource for them, and assist the LWI Board in addressing these issues and their effect on its members.
Full Citizenship Campaign for All Law Faculty
In 2015, LWI adopted the following statement:
No justification exists for subordinating one group of law faculty to another based on the nature of the course, the subject matter, or the teaching method. All full-time law faculty should have the opportunity to achieve full citizenship at their institutions, including academic freedom, security of position, and governance rights. Those rights are necessary to ensure that law students and the legal profession benefit from the myriad perspectives and expertise that all faculty bring to the mission of legal education.
Both the Association of Legal Writing Directors (ALWD) and the Society of American Law Teachers (SALT) have also adopted this statement. To date, these organizations have collected over 570 individual signatories as well.
Survey of Faculty on Status Issues
In preparation for LWI's 2016 and 2018 biennial conferences, the PSC conducted an informal survey of its membership relating to status issues. The committee then presented the results of these surveys at the 2016 and 2018 biennial conferences. The PowerPoints from those presentations are here (2016) and here (2018).
Caveats: Note that the responses to the 2016 survey seemed to come from a slightly different group than the responses to the 2018 survey, as explained in the beginning of the 2018 PowerPoint. Note also that the data have not been analyzed in any statistical sense and should be relied on only as anecdotal information. If you would like more information about the underlying data, please contact committee co-chair Mary Bowman at Mary.N.Bowman@asu.edu.
Best Practices under ABA 405(c) Project
More recently, the Professional Status Committee supported a project to articulate Best Practices for compliance with ABA Standard 405(c), which affects a significant number of legal writing faculty. The resulting article, authored by Mel Weresh, Dwight D. Opperman Distinguished Professor of Law, Drake University Law School, has been formally endorsed by LWI, ALWD, and SALT. It has also recently been published in the Journal of Legal Education, along with a number of short companion pieces. See 66 J. Leg. Educ. 538 (2017).
Eliminating ABA 405(d) and Granting Security Position for all LRW Faculty under 405(c)
The PSC, along with Susie Salmon from ALWD, has recently published an article in the Oregon Law Review arguing that f ABA Standard 405(d) does not provide meaningful protection to legal writing faculty and all legal research and writing faculty should be entitled to protection under 405(c). See
J. Lyn Entrikin, Lucy Jewel, Craig T. Smith, Susan Salmon, Kristen K. Tiscione, and Mel Weresh, Treating Professionals Professionally: Requiring Security of Position for All Skills-Focused Faculty Under ABA Accreditation Standard 405(c) and Eliminating 405(d), 98 Or. L. Rev. 101 (2019).
Collaborations
ALWD and LWI both engage in a variety of activities that relate to status issues facing legal writing faculty within the legal academy. ALWD and LWI work collaboratively on these issues, including jointly administering the ALWD/LWI Survey, but each organization has a different focus: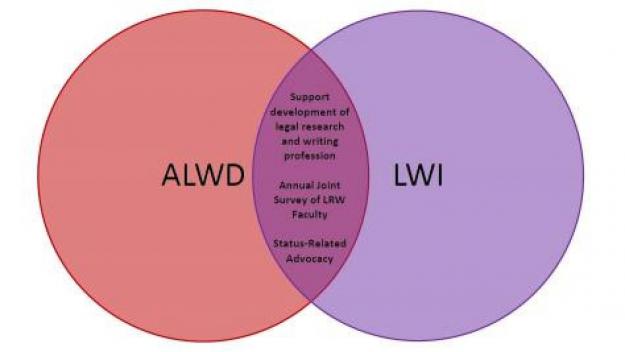 ALWD has an external focus, with an emphasis on accreditation issues before the ABA and Council on Legal Education.

LWI has a more internal, member-facing focus, with an emphasis on helping LWI members advocate to their schools for status improvements.
For a chart that provides a more specific summary of ALWD's and LWI's status efforts, click here. For more information about ALWD's ABA Task Force, click here and here.
A designee from the LWI Board of Directors also acts as an affiliate Board member of SALT. The current affiliate member is Kim Chanbonpin.
The PSC is also in the process of developing toolkits for members' quick reference and use where time is of the essence and hoping to publish the story of its Citizenship Campaign.
The Board voted in April 2019 to oppose proposed revisions to ABA Standard 316 (regarding bar passage rates) in part because of the likely adverse impact on the legal writing community. You can read more about it here.
If you are concerned about any status issues with respect to your employment or that of a colleague, please do not hesitate to contact us. Your information will be treated with the utmost confidentiality.
Sincerely,
Mary Bowman, ASU Co-chair,
Mel Weresh, Drake, Co-chair,
David Austin, Cal Western
Heidi Brown,Brooklyn
Olympia Duhart, NOVA
Lucy Jewel, Tennessee
Craig Smith, UNC
Kristen K. Tiscione, Georgetown
(scroll down to sign Citizenship Statement and access "Other Resources")